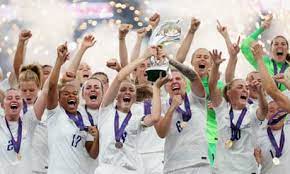 Womens Euro 2022 Memories
LOOKING BACK AT A SUMMER WE WILL NEVER FORGET AFTER A HISTORIC EURO'22 CHAMPIONSHIP WIN BY THE ENGLAND LIONESSES.
MY EURO'S MEMORIES
We spoke to Ava (16) who is a referee in Herefordshire and we asked her to write a small article on her experience of watching the Lionesses at this summers Euro 2022 Championships.
Thank you to Ava for writing a great article. If you have been inspired or would like to share your story and photos on what was a historical summer for women's football then please send your stories over to George.Leyshon-James@herefordshirefa.com we'd love to share your experiences and memories, if that was attending any of the live matches or simply supporting the Lionesses at home in front of the TV, we would love to hear all your stories.
#THISGIRLCAN